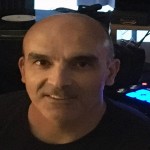 DPeterJ Biography
Pedro Vilas Boas aka D.Peter.J, is a Portuguese trance/house producer and DJ, with more than 30 years on production, remixes and live-acts.
One of the pioneers of electronic dance music in Portugal in the early 90's.
As part of the Portuguese trance band called "The Ozone", he released several of their own themes and remixes of other artists. In the last years he released several trancey house themes of his own and as part of house project "Old Skool Split".
He also taught on many dance music MIDI and audio training courses. The idea of him becoming part of a trance label had many years, in 2006 the dream came true with Time2Trance!!!
He was one of founders of the Portuguese club/disco tour called Jump4Trance (J4T), specialised in spreading uplifting trance around here in Portugal. His DJing appearances restarted in September 2007. In 2018 he entered a new project "Music With A Feeling", focused on choosing the appropriate musical scale, at the start of his new productions, to induce the right feeling in the audience ... meanwhile his new uplifting trance tracks were released in 2020, 2021 and more are yet to come, including a new house music project (Loud2High) and a new trance project (MWAF).
---
DPeterJ Videos
---
DPeterJ SoundCloud Tracks
---
DPeterJ Spotify Play List
---
DPeterJ WebSites

Booking DPeterJ by DPeterJ

Gigmit dj booking - D.Peter.J