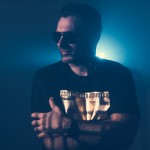 Edgy Biography
A producer, songwriter, and DJ based in Aberdeen, UK, Edgy L is seeking to leave an indelible footprint on the dance music scene. His own mixes as a DJ and music as a producer has actually become some sort of phenomenon in their own right and are religiously followed by clubbing faithful the world over. As someone who has developed strong foundations in EDM, progressive house, and heavy synth music of the vintage era,
Edgy L seamlessly blends these genres with his love for music to fashion an unforgettable sound that raises the dance floor to hell-literally!
Edgy L's sound ranges from EDM to progressive house, spicing it up with the 80s-90s feel and vintage synth sounds, with no stone unturned when it comes to creating original sounds that get people talking.
Edgy L certainly has a fruitful career ahead of him with the support of big industry names and the talent to back it up.
---
Edgy Videos
---
Edgy SoundCloud Tracks
---
Edgy Spotify Play List
---
Edgy WebSites