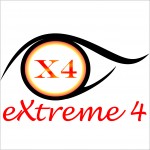 EXtreme4 Biography
A graduated musician (guitarist)
eXtreme4 is a Music composer, guitar player, singer, producer, sound engineer and music teacher!
He is in love with Fusion and tend to experiment by fusing different genres and type of music, as he prefers to say, if you could fuse the impossible it will sound impossible!
Live your dream, and let it be everyone's reality!

Not everyone is born to be musician!
Interesting thought?!!
But with a strong willing, and pretty damn hard work, maybe one day, just maybe, you could succeed!
Never give up on your dreams, even if you felt that they has gaven up on you!
One day, just maybe, it will pay off!
---
EXtreme4 Videos
---
EXtreme4 SoundCloud Tracks
---
EXtreme4 Spotify Play List
---
EXtreme4 WebSites